This is an archived article and the information in the article may be outdated. Please look at the time stamp on the story to see when it was last updated.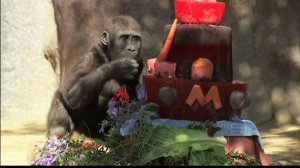 SAN DIEGO — The San Diego Zoo Safari Park held a birthday celebration Monday for Monroe, a 2-year-old western lowland gorilla.
Monroe got to enjoy a multicolored ice cake made of fruit and vegetables and decorated with yam and banana frosting, ginger leaves and jacaranda and hibiscus flowers. He also played with boxes painted as presents and paper-mache balloons.
Parents Kokamo and Winston, aunts Amani, Vila and Kami, and Monroe's best buddy, a 4-year-old male named Frank, also got in on the festivities.
"Monroe is still considered an infant and still nurses from his mother but also eats solid foods and has a great appetite," said Peggy Sexton, a lead animal keeper at the Safari Park. "He has grown so fast in his two years and is one busy, precocious, extremely social little guy who is perpetually on the go."
The birthday celebration was provided by his keepers and Safari Park volunteers as enrichment for Monroe and the gorilla troop, which is considered important because it keeps them stimulated and active, allowing them to show their natural behaviors.
Monroe was born at the park on June 17, 2011, and is the youngest of the troop of seven gorillas.
Western lowland gorillas are listed as critically endangered by the International Union for Conservation of Nature because of habitat loss. They live in thick jungles of west-central Africa, including the nations of Cameroon, Central African Republic, Congo, Equatorial Guinea, Gabon, Angola, and the Democratic Republic of Congo.