This is an archived article and the information in the article may be outdated. Please look at the time stamp on the story to see when it was last updated.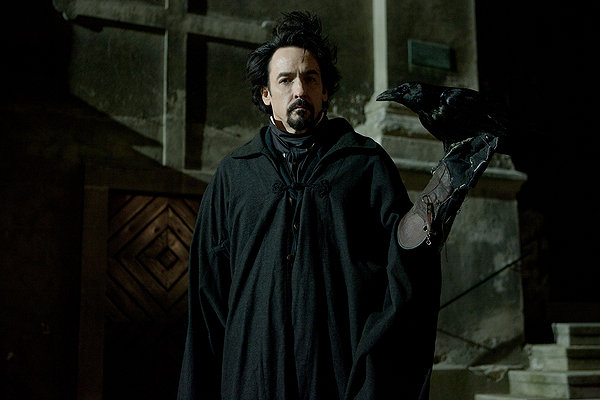 When I hear about an actor being cast to play somebody famous, I never really analyze it before seeing the movie. I didn't think Jim Carey looked anything like Andy Kaufman, and he was great (and somehow got robbed of an Oscar nomination). Val Kilmer was great as the dark singer/poet Jim Morrison (in the horrible movie).
When casting for the dark poet/writer Edgar Allen Poe, I'm guessing Johnny Depp or Robert Downey, Jr. would've been the studios first choice. Although, Downey might not have worked in this, since the movie really tried to be like the recent Sherlock Holmes films.
After watching John Cusack, the usually reliable actor, do a poor job playing Poe – I found myself actually wishing they would've cast Nicolas Cage (who has the eyes and forehead of Poe).
This mess of a movie was co-written by Shakespeare (Hannah Shakespeare), and directed by James McTeigue. He's the guy that gave us the fun V for Vendetta with his first film seven years ago. I'm not sure how he could've done such a poor job with this.
The premise is wonderful. Since Poe was found wandering the streets babbling and ranting incoherently a few days before he died in Baltimore, this fictional story shows what led up to that.
Somebody is committing murders in the fashion described in some Poe pieces. This leads the detective (played well by Luke Evans) to initially suspect Poe, before using him to help solve the case.
Poe isn't interested, until his love is kidnapped. The movie goes down the Misery and Se7en path, as Poe is forced to write about the ordeal in detail.
Alice Eve (She's out of my League) plays the love interest, and she's a stunning presence on screen. It reminded me of the gorgeous blonde I was mesmerized watching Michael Caine have an affair with when Blame it on Rio came on HBO when I was 15.
The costumes and set designs were perfect, and the film had a few good moments.
I'm guessing that after all the negative reviews come out, McTeigue will want to do to the critics what he did to the critic in this (think Pendulum).
I wish the movie would've had some scary moments to go with the interesting atmosphere.
This is a film that makes it easy to say "The books are better."
Read one of Poe's stories and skip this.
1 ½ stars out of 5.