This is an archived article and the information in the article may be outdated. Please look at the time stamp on the story to see when it was last updated.
LOS ANGELES – It's official, American Idol is down to the Top 13!  Fox 5 San Diego sent me to LA for the red carpet party for the Top 13 after the results show.
I am a VERY HAPPY girl knowing my three favorite boys made the list – Ben Briley!  Dexter Roberts! CJ Harris!  These country dudes are front and center.  Here's the deal on why I adore them:
First off, they're authentic.  These are COUNTRY guys BORN AND RAISED!  Thank you. Thank you.  Thank you.
While I love country music, so much country now is 'pop' or people that are jumping on the country band wagon because they know the fans are the best, loyal, and totally respectful of their private lives.  Country music fans seriously love country – we crave some twang – and everything that goes along with the lifestyle.  CJ, Dexter, and Ben have already proven themselves to be the real deal and it makes them more real.
Though, I have to admit Ben Briley likes to flaunt the California look with his ball cap.  I'm not a big fan of that look for him (or anyone really).  It sort of preps him up and I get confused stylistically with what he's trying to convey.  But that is a superficial observation and I clearly digress :)  However, as a talent, as a singer, as a performer and a country boy Ben is on point he is in one word-awesome.  No matter what, I'm sure he's a star and I think he's the kind of entertainer  Nashville needs right now.
When Dexter and CJ sing my heart skips a beat and a smile is immediately drawn on my face.  Let me tell you – that's a gift boys!  And all of America's country music fans are clearly doing the same.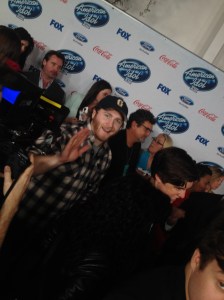 Ben loves his wife, his family, and Tennessee, but told me this one thing, "I don't miss the weather!"  I told him the next rounds will be tough, and he knows it.  So, I wanted to know what his plan was to secure the top spot each week.
"Every week, I'm gonna give you something that's surprising that you wouldn't think I would do," he told me.  "Song choice is important to me.  It's something I really pay attention to and I really want to make sure I have the right one."
I got a chance to chat with Keith Urban – who's proud to know his genre is representing in this competition.
"I love the fact that they are making an emotional connection with what they do," Keith said. "It's not about the way they move or the hot factor, you know what I mean.  It's about the voice, the emotion, the authenticity."
On a final note, you might think my favorite part of being at a red party like this was interviewing Keith Urban and Jennifer Lopez and the Randy Jackson's of the world–the big wigs.  Granted, it's a fun opportunity and I do love it.  But, honestly, no–it's not my favorite part.
The most rewarding part was and will remain to be interviewing these young contestants who are getting an opportunity to fulfill a dream.  They are thrust into the limelight from their small towns, reporters are in their faces, cameras are snapping away–and that alone is a dream come true.  They are excited, they're innocent, they're appreciative, and it feels really good–REALLY good to see them in this light.  My hope is they never change–but soon a few of them will get big, have an entourage, and maybe even forget what's it's like to be humble years down the road (though I hope not).  Who knows….but right now as an American Idol fan, I'm loving their energy and I am fulfilled giving them that chance to feel like the superstars they are.
I don't know what will happen, but I know that I'm staying tuned and I'm voting each and every week for MY COUNTRY BOYS!  And, I hope you do, too.
Feel free to share your thoughts here, agree or disagree?  Or tweet me @countrynewsgal
Good luck, ya'll!