This is an archived article and the information in the article may be outdated. Please look at the time stamp on the story to see when it was last updated.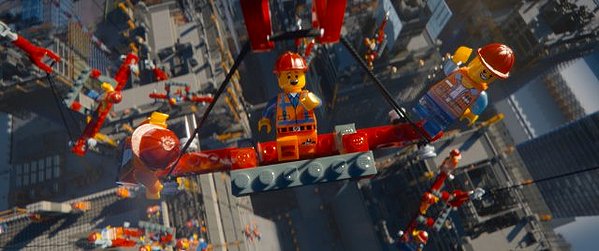 I missed the press screening of this movie, but finally made it up to the Reading Cinema to check it out. I had to. It was getting 96% good reviews on Rotten Tomatoes and many critics were comparing it to Wreck-It Ralph. I loved that movie.
Instead, I sat there watching a two hour commercial for Legos.  It's truly one of those times you could've said, "I saw the trailer, why bother to see the movies?"
The graphics were fun. Christopher Miller and Phil Lord did this digital animation that gave the whole picture a stop-motion feel. It just seems like the characters were all so wild and loud, they felt like the action and visuals would carry the picture. It didn't; although kids with ADHD will have a blast.
The story involves a simple man named Emmet (Chris Pratt). He and the rest of the working-man Lego crew do their construction jobs and don't question authority. President Business (Will Ferrell) is evil, and has lots of plots going on. One of the fun elements is watching him interact with Good Cop/Bad Cop (Liam Neeson). He prefers the "bad cop" personality more, and you'll get a kick out of listening to Neeson voice these characters (and singing "Danny Boy"). Although with Neeson doing three movies a year, and having done that horrible movie based on a board game (Battleship)…you wonder what he's even thinking.
Emmet meets Wyldstyle (Elizabeth Banks). Her and Batman (Will Arentt) are trying to find a Lego piece that can protect them from President Business. They all meet up with Vitruvius (Morgan Freeman). He's the wise old Lego that believes Emmet was sent to save them. But as Wyldstyle points out…he's not very smart, doesn't have original thoughts, and he even eats at "chain restaurants."
Yes, a lot of the jokes will go over the kids' heads, and they aren't funny enough for the adults. There were 6 or 7 times I almost chuckled. Batman writing a loud/techno song about being an orphan, or somebody shooting a character and yelling, "Rest in pieces!"
Since so many critics have compared this to Wreck-It Ralph, I'd like to know why nobody got this script made even half as good as that. There are attempts at social commentary (DJs play the same monotonous song "Everything is Awesome," and TV shows a sitcom that has one joke – a character can't find his pants).
The premise of the movie isn't bad, but with the Oscars around the corner, I couldn't help think of a short nominated for an Oscar a few years ago. It had various logos from companies. Had this movie been a short (supposedly the idea was based on many Lego shorts that had been done)…it would've been great.
It's cool that Tegan & Sara did the song "Everything is Awesome" and Mark Mothersbaugh (Devo) provided the score.
The 3rd act, which I won't give away, was also a bit of fun (even if it borrows from Toy Story).
I can't give this movie more than 2 stars out of 5, though.