This is an archived article and the information in the article may be outdated. Please look at the time stamp on the story to see when it was last updated.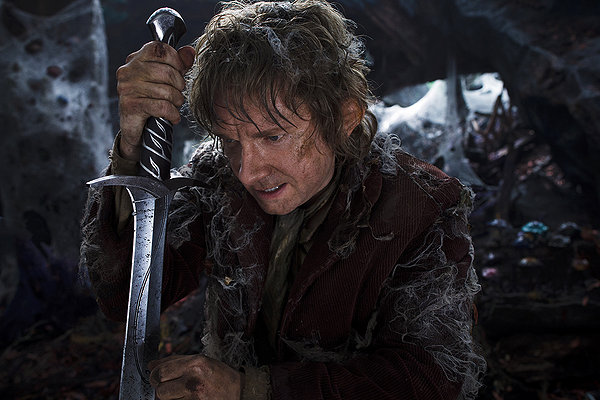 This is Peter Jackson's second installment of the trilogy based on J.R.R. Tolkien's The Hobbit. The first one wasn't that impressive, aside from the special effects (which sometimes worked, sometimes didn't). They mostly work this time out, although that means things lack in the character development department. Bilbo Baggins gets more of a story, but we also get that clunky exposition that at times is cringe worthy.
The 3-D looks impressive, and the computer generated CGI stuff makes the action sequences a lot of fun. There's one scene with the dwarves being attacked in barrels that's a blast. In fact, most of the fight scenes are great, even if at times it feels like you are watching a video game.
This story has hobbit Baggins (Martin Freeman) and his dwarves (led by Richard Armitage as Thorin Oakenshield) continuing on their journey. They meet up with Azog the Defiler, as well as a shape-shifting giant that is a man named Beorn, and also a bear. They have an adventure that involves giant spiders (you people suffering from arachnophobia will have nightmares). They reach the LonelyMountain, where the dragon (voiced by Benedict Cumberbatch) wakes from its long slumber.
The wizard Gandalf (Ian McKellan) goes to the castle of the Necromancer and learns that a war is a-brewin'.
The character Evangeline Lilly plays (Tauriel) adds a nice presence and decent character arc.
As the second of three installments, this certainly works better than the last Hunger Games, because we at least have some great graphics, chases, and a really fun scene with the dragon. The special effects are fabulous in those shots. Yet after awhile, although there was decent pacing, you can only take so many treks through the woods.
The score by the usually reliable HowardShore (Hugo, Lord of the Rings, Silence of the Lambs) is a bit flat.
Fans of the series will enjoy this ride. Its 2 ½ hour run time, get it 2 ½ stars out of 5.