This is an archived article and the information in the article may be outdated. Please look at the time stamp on the story to see when it was last updated.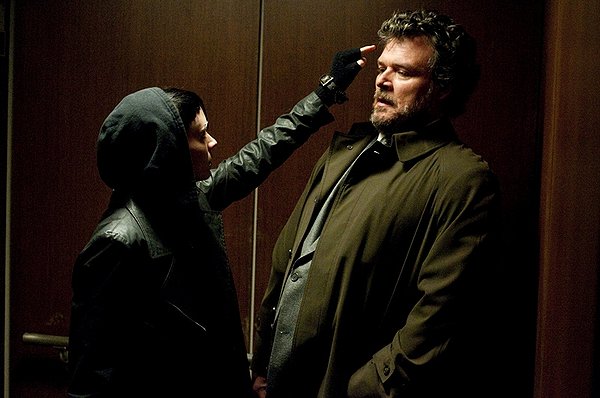 Come to the land of the ice and snow/From the midnight sun where the hot springs flow…
These lyrics start off Led Zeppelin's third album, and they start of the American version of the Nordic tale The Girl With the Dragon Tattoo. This version of the song has Trent Reznor and Karen O (Yeah Yeah Yeahs) doing an amazing cover, and an opening sequence that reminded me of the stuff you'd see starting James Bond films. Outstanding visuals that had little to do with the tale we're about to be told, although it does have one of the Bonds in it, so….
Let's get right to it.
I saw this movie twice near the end of the year, and it's my favorite movie of the year.
I had a lot of reluctance to this American version. I hadn't seen the Swedish film a few years ago, but I loved the horror movie Let the Right One In, and was shocked that the American version was basically a scene for scene remake.
I brought a co-worker who loved the Stieg Larsson novels, and she told me this is a lot closer to the source material than the other version of this.
Director David Fincher (who caused me to spend 15 minutes trying to figure out a clever way to tie in the word "flinch" with "Fincher" in this review) deserves a lot of credit.
He's done gritty films with killers before (Se7en, Zodiac), and he's done popular movies that got critical acclaim (Curious Case of Benjamin Button, Social Network). The latter had Trent Reznor (Nine Inch Nails) and Atticus Ross also doing the score. They do a nice job with this (although I hated the scene where a guy is wearing a NIN shirt; inside jokes like that take me out of the story).
For those 10 people out there that haven't read the book, the story is about a rich guy that owns the biggest company in Sweden. His beloved niece disappeared 40 years earlier, and he wants to know who killed her. He's sure it's a family member, and he has some creepy family members to choose from.
He brings in a reporter (Craig) who recently lost his job, hoping he'll bring a fresh set of eyes to the investigation. Most of the family is upset by this, a few welcome him; one being an actor I love – Stellan Skarsgard. He's in another of my favorite movies from this year (A Somewhat Gentle Man). He's the actor most Americans probably confuse with Liam Neeson, and remember as the bad guy in Good Will Hunting.
The cast is rounded out by Christopher Plummer – also in another favorite from this year (Beginners). Just hearing his voice will make you think "Are you the killer of your niece?"
Robin Wright plays the editor having an affair with Craig.
Surprisingly, with all those talented veteran actors, the best performance comes from the girl with the dragon tattoo – Rooney Mara. Now, all those critics that called David Fassbender's performance in Shame "brave"simply because he was nude and had an addiction…get a clue. It's Mara's performance in this film that is brave, amazing, captivating. Nominate her for an Oscar right now.
There are three scenes where just her facial expression alone blows me away. One is when Craig asks her to help find "a killer of women." She looks up with an expression that says "I'm in."
Another is when she's about to be sexually abused (this isn't for the entire family, as there's some rather tough subject matter). In a typical Hollywood movie, we'd see the girl running around kicking his ass (Kick Ass) and taking names (Colombiana). Yet, the women in those movies and Dragon Tattoo, all weigh 90 pounds. They wouldn't be doing any of that. Yet, when Mara has to kick a little ass (and other body parts), we can totally believe it (it helps when you have a taser).
And when revenge does happen, I had a feeling come over me that I don't remember happening since I was 11-years-old watching Matt Dillon get a beating in My Bodyguard. I wanted to stand up and cheer (and in the second showing I saw of this movie, many did).
This is one thrilling experience at the movies.
There may be a few cliché scenes, and some was predictable; but so much of the writing was fresh and clever, I was able to overlook those small things.
For example, there's a scene where one character is telling another how a person will fear offending somebody over doing what is probably safer for them. It was brilliant writing, and so when the killer plays a piece of music right before killing this character (great choice, Enya's "Orinoco Flow (Sail Away)," we're overwhelmed with nervous laughter. And how many times has a killer played music when plying their trade? I can think of 10 movies off the top of my head. Yet when Fincher does that in this, I was genuinely creeped out. And you will be, too.
When Fincher has a vacuum cleaner going in the background of one scene, it's brilliant. It's haunting, and conveys a certain vibe that is just perfect for that scene.
I enjoyed the long narrative, the fascinating protagonist, the interesting side stories (Craig's teen daughter not going through a rebellious stage, but a religious one), and how the realistic relationship develops between Mara and Craig. It's all crafted so well.
If Hollywood just wants to make money doing a remake of a well-known title and they can make movies this good, go for it.
This movie gets 5 stars out of 5.