This is an archived article and the information in the article may be outdated. Please look at the time stamp on the story to see when it was last updated.
RAMONA, Calif. – A male and a female bald eagle have just made San Diego history.
The love birds have finished a nest in Ramona off of Highland Valley Road.
It's the first nest in recorded history and bird lovers are thrilled to see the powerful hunters relaxing in the boughs eucalyptus trees.
"Those bald eagles are the crowning achievement in the grass lands conservation effort," said David Bittner from Ramona's Wildlife Research Institute. "We are use to seeing golden eagles, but seeing these magnificent birds is a real treat."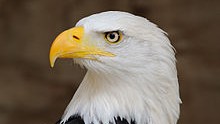 The eagles spend their days collecting wood and hunting rabbits, squirrels, and ducks. Experts described the predatory bird as the tiger of the sky.
"They normally eat fish and stay by streams, but these two have adjusted to their grassland habitat nicely and now we're  hoping for babies," said Bittner.
In the 1970s, there was fear the nation's bird would go extinct, but with the ban on DDT the eagles numbers are soaring.