This is an archived article and the information in the article may be outdated. Please look at the time stamp on the story to see when it was last updated.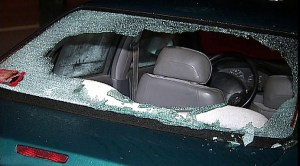 CHULA VISTA — Two 16-year-old boys were in custody Wednesday on suspicion of using BB guns to vandalize at least 42 vehicles over three nights in southeastern Chula Vista, police said.
The teens were arrested Tuesday on suspicion of multiple counts of vandalism in connection with the vandalism spree that occurred earlier this
week, Chula Vista police said in a statement.
Police also searched the teens' homes on Tuesday and allegedly found a BB gun and a gallon-sized bag of pellets in one suspect's home and four additional BB guns in the second suspect's home.
The teens were identified as suspects after detectives reviewed surveillance video that showed the license plate of a suspicious vehicle seen in the area of the vandalism spree, police said.
Damage to the vehicles, which included broken windows, was in the thousands of dollars.