This is an archived article and the information in the article may be outdated. Please look at the time stamp on the story to see when it was last updated.
ALPINE, Calif. — The unrestrained teenage boy killed when he was thrown from the back of a Jeep Wrangler in a crash in Alpine was a star football player at Granite Hills High.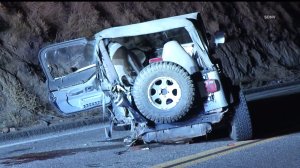 William Burton, 17, died at the scene of the crash on South Grade Road outside the gated community of Rancho Palo Verde. Granite Hills High was providing grief counselors for students Tuesday, a spokesperson from the school told FOX 5.
The California Highway Patrol said the deadly accident, which also left four other people with minor to moderate injuries, happened about 8:25 p.m. Monday.
Burton was a standout defensive lineman who was recently named to the CIF All-San Diego first team defense. He also led all Eagles receivers and tight ends with 28 catches for 287 yards and four touchdowns. One of Burton's best performances came during an early season game against Steele Canyon in September when he caught two touchdowns, including the game-winner with 2.9 seconds left in the contest.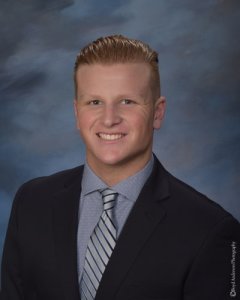 Burton, a senior who also played baseball for Granite Hills, is survived by his parents, Bradford and Donna, and brothers Jake and Zachary.
Burton was riding without a seat or seat belt in the back of the Jeep Wrangler that was westbound on South Grade Road when the SUV began to drift off the road for unknown reasons, CHP Officer Travis Garrow said. The Jeep's driver, an 18-year-old Crest man whose name was not released, yanked his steering wheel to correct the drift but instead veered across the roadway into the path of an oncoming Lexus SUV.
"The Jeep's left side was broadsided by the front of the Lexus," Garrow said. "The impact caused (Burton) who was riding in the back area of the Jeep to be ejected out of the vehicle and onto the roadway where he succumbed to his injuries on scene."
The Jeep's driver and the front-seat passenger, also a 17-year-old boy from Alpine, were both wearing their seatbelts and sustained minor to moderate injuries, Garrow said. They were taken by ambulance to Sharp Memorial Hospital in San Diego.
The 51-year-old Alpine man driving the Lexus and his passenger, a 13- year-old girl, were treated for minor injuries on scene, Garrow said. Investigators don't suspect alcohol or drugs factored into the crash.
Grossmont Union High School District spokeswoman Catherine Martin released Burton's class photo and said the district is working to meet with all of the families involved.
"We extend our deepest sympathy to the family of William Burton, senior at Granite Hills High School. The family is requesting privacy at this time."
A candlelight vigil is planned for Friday at 7 a.m. in the quad at Granite Hills High School.
"William was well-loved and very active on campus. He was an accomplished student-athlete who played baseball, basketball, and most recently was named to the All-CIF team in football. His positive spirit touched the lives of many on campus and in the community. He will be greatly missed."
As news spread of Burton's death, condolences and tributes began pouring in on social media.
"RIP Will Burton and I hope your family finds peace," tweeted J.R. Justice, a football player from St. Augustine High. "Every game next year is for you my man."
Mikel Oliver, a football player from rival Steele Canyon High, tweeted that his "prayers go out to the entire Burton family" and said Steele Canyon's state Division 3-A championship game this Saturday would be played in Burton's honor.
My prayers go out to the entire Burton family… Last night heaven gained a angel, sad thing to see such a young amazing life be taken from this world. R.I.P Will this Saturday is all for you big fella. Much love, you will be dearly missed and never forgotten. @william_burton1

— Mikel (Kelz) Oliver (@Dope_Kelz_3) December 12, 2017
"Sad thing to see such a young amazing life be taken from this world," Oliver said. "R.I.P Will this Saturday is all for you big fella. Much love, you will be dearly missed and never forgotten."
OMG! Prayers and love to this young man's family, teammates, friends! That is tragic news.

— Scott Kaplan (@ScottKaplan) December 12, 2017