This is an archived article and the information in the article may be outdated. Please look at the time stamp on the story to see when it was last updated.
SAN DIEGO – A dream came true for a 16-year-old San Diego girl when she was surprised with a new car for her birthday Tuesday, although the road she took to get there made the surprise so special.
Seven years ago, Pemberton was living in the Salvation Army Door of Hope Shelter when she was selected for the national program Pictures of Hope.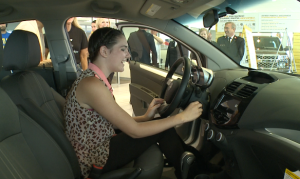 As part of the project, she wrote a list and took pictures of what she wanted in life.
She made a wish list which included a kitten, world peace and a college scholarship.
"I didn't think any of them were possible," Pemberton said. "No one else in my family has gone to college."
The president of San Diego State University was so moved by her story that she was given a full ride scholarship at the age of nine.
Pemberton has continued to volunteer her time with Pictures of Hope founder Linda Solomon.  On Tuesday, thanks to Pictures of Hope, General Motors and Jimmie Johnson Chevrolet, she received the 14th item on her wish list.
She was selected as the first recipient of the "Spark of Hope" award. The prize was a brand new Chevy Spark.
"My heart stopped," Pemberton said. "It's just amazing that this could happen to me, somebody who was homeless five years ago."
"She deserves it, she's an outstanding role model for children," Solomon said. "Pictures of Hope shows that one picture can and has changed a life."