This is an archived article and the information in the article may be outdated. Please look at the time stamp on the story to see when it was last updated.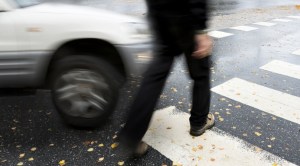 SANTEE — A 15-year-old boy was struck and severely injured by a SUV as he stepped off a curb at an intersection near Santee just before the crosswalk signal indicated it was safe to walk, a California Highway Patrol officer said Wednesday.
The Santee boy and another teen had pushed the crosswalk button and were waiting to cross Woodside Avenue at Riverford Road about 5:15 p.m. Wednesday, but then began to cross before the signal changed from "Don't Walk" to "Walk," according to CHP Officer Kevin Pearlstein.
One of the pedestrians returned to the shoulder as a 36-year-old Lakeside woman driving an eastbound 2012 Ford Flex approached, but the other tried to run across the street, Pearlstein said.
Pearlstein said the SUV's driver braked but could not avoid crashing into the boy.
The boy was knocked to the ground and suffered life-threatening injuries, according to Pearlstein. He was taken to Sharp Memorial Hospital.
The SUV's driver was not injured, and Pearlstein said alcohol and drugs did not appear to have been factors in the crash.