This is an archived article and the information in the article may be outdated. Please look at the time stamp on the story to see when it was last updated.
SAN DIEGO — A motorist who was on drugs when he got into a head-on freeway crash that killed another young man in Rancho Penasquitos was sentenced Friday to six years in state prison.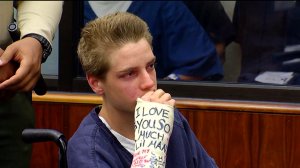 Timothy Theodore Barnette, 19, pleaded guilty in October to gross vehicular manslaughter while intoxicated and DUI causing injury for triggering the May 16 crash that killed 22-year-old Nick Hart, who had been on his way to a funeral.
At sentencing today, a tearful Barnette apologized to Hart's family, asking them to forgive him.
"I know that will probably never happen," Barnette said.
But Hart's father, George Hart, told the defendant to "do the right thing."
"We will forgive you," the victim's father told the defendant.
Hart's grandmother, Joan Reynolds, told Barnette that his actions killed her grandson,
"You had no right to that car in the condition you were in," she said. "We hope you suffer much."
Hart's mother, Jennifer Wood, said the pain her family is going through is "immeasurable."
Wood said her son was a "beautiful person, both inside and out."
Hart's sister, Kaitlyn, said her brother "was going to change the world."
The defendant's mother, Georgia Barnette, told her son, "Today is such a sad day. You have a heavy burden on your young shoulders."
Ann Almryde testified during a preliminary hearing in July that she and her husband were traveling west on Ted Williams Parkway near Pomerado Road around 9:30 a.m. when she noticed a Land Rover parked with two wheels up on the sidewalk.
Moments later, the same Land Rover sped past the couple, with the man behind the wheel changing lanes and driving erratically, prompting Almryde to call 911.
Another witness, Rex Dolendo, said he was stopped at a red light on the same road — which becomes state Route 56 near the Interstate 15 interchange — when the Land Rover's driver cut him off and narrowly missed hitting his car.
David Brenner said he tried to pass the Land Rover and got a good look at the driver, who he identified as Barnette.
The witness said Barnette smiled at him, swerved to the left, crossed a center median and crashed into Hart's vehicle on the other side of the freeway.
Hart, a 2009 graduate of Poway High School who loved to surf and go rock- climbing, was pronounced dead at the scene.
California Highway Patrol Officer Brad Clinkscales testified that after the crash, at a hospital, Barnette told him that he had left Abraxas High School in Poway to get something to eat.
He said Barnette said he had taken two Xanax pills and smoked marijuana two days before the accident, and had inhaled computer keyboard cleaner two months earlier.
Officers found two cans of the cleaner in the defendant's car and one was empty, Clinkscales testified.
Authorities found marijuana, Xanax and inhalants in Barnette's blood.
At sentencing today, Barnette's older sister told him "You will always be our little brother. Don't let this ruin your life."
Superior Court Judge Eugenia Eyherabide told the defendant, "Fashion your future in the honor of Nick."