This is an archived article and the information in the article may be outdated. Please look at the time stamp on the story to see when it was last updated.
SAN DIEGO – One of four people accused of sexually assaulting a teenage girl after she passed out while binge-drinking with them in a Lincoln Park canyon pleaded not guilty Monday to a felony charge.
Raatib Quidar Prince, 18, was ordered held on $100,000 bail and faces a maximum of eight years in state prison if convicted of sexual penetration of an intoxicated person, according to Deputy District Attorney Karl Husoe.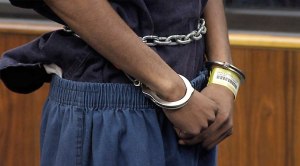 The other suspects — two 17-year-old boys and a 14-year-old girl – are being prosecuted in Juvenile Court.
One of the three was arraigned last week and the other teens have a detention hearing tomorrow, said Deputy District Attorney Cheryl Sueing-Jones.
About 9 p.m. last Monday, a passer-by spotted the blacked-out 16-year- old victim in a gorge off the 300 block of 49th Street. Medics took her to a hospital, where she was admitted in "grave condition," SDPD Lt. Anastasia Smith said. The girl remained unconscious until about 10 a.m. the following day.
Detectives determined that she and a group of teenage companions had consumed "large quantities" of straight vodka prior to the alleged assaults.
"Although she was unconscious for several hours, none of the suspects called for help," the lieutenant said.
Investigators believe the girl had passed out about five hours prior to being rescued. She has since been released from the hospital and is expected to fully recover, Smith said.
The alleged victim is acquainted with the suspects and attends the same high school as several of them, according to police, who declined to identify the campus. All five of them live near the open area where the unconscious girl was found.
Prince will be back in court Friday for a bail review. A readiness conference was set for Dec. 12 and a preliminary hearing for Dec. 14.