This is an archived article and the information in the article may be outdated. Please look at the time stamp on the story to see when it was last updated.
POWAY, Calif. — A 15-year-old boy who didn't see that a pickup truck was towing a trailer was run over by it, and broke his leg in several places, a sheriff's sergeant said Sunday.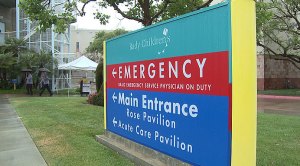 The boy told deputies he saw the northbound Dodge Ram pickup truck and planned to cross the intersection of Midland Road and Cynthia Lane behind it around 9:15 p.m. Saturday. But the victim said he did not realize the truck was pulling a trailer, sheriff's Sgt. David Cheever said.
He started running west, into the intersection, after the truck passed and was hit by the trailer, Cheever said.
The boy sustained a compound leg fracture and was taken to Rady Children's Hospital by paramedics, according to the sergeant.
The pickup's driver stopped after the crash and waited for deputies to arrive, Cheever said.
Cheever said investigators did not believe alcohol or drugs were a factor in the crash.