This is an archived article and the information in the article may be outdated. Please look at the time stamp on the story to see when it was last updated.
SAN DIEGO — A 19-year-old man was sentenced Friday to decades in prison for fatally shooting a college student who was lured to a robbery by a Craigslist ad for a laptop computer.
Rashon Abernathy had faced a maximum of 83 years to life behind bars. Judge Kerry Wells said that would constitute cruel and unusual punishment since the defendant was 17 at the time of the murder. Instead, the judge sentenced the teen to 50 years to life.
Co-defendants Seandell Jones and Shaquille Jordan — who were also convicted of first-degree murder — were scheduled to be sentenced later this afternoon.
"The motive in this case was pure greed," the judge said before sentencing Abernathy.
Wells denied a motion for a new trial for all three defendants, saying her failure to give a certain jury instruction was harmless error.
The defendants were convicted in the May 11, 2011, robbery-slaying of 18- year-old Garrett Berki, a 2010 graduate of La Jolla High School. Berki's girlfriend went with him to check out the computer for sale and was also a victim of robbery.
The jury also found Abernathy guilty of robbery for stealing $600 from a Navy man who responded to a Craigslist ad to buy a similar computer on May 5, 2011.
Prosecutor Kristian Trocha said Berki went to Paradise Hills about 10 p.m. with his girlfriend to buy a MacBook Pro computer advertised on Craigslist for $600. The defendants grabbed the money and the victims' cellphones and got into a stolen car driven by Jordan, he said.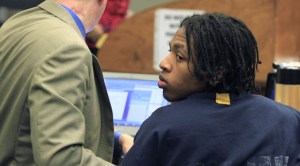 Connie Berki said her son was loved by everyone.
"Six hundred dollars … that's what my son's life was worth," she said.
Berki and his girlfriend were headed to report the theft when he spotted the defendants' car and gave chase on state Route 54, Trocha said. The cars exited the freeway several miles away and ended up front-to-front in a cul-de- sac.
Abernathy fired one shot through the windshield of the victims' car, striking Berki in the shoulder, the prosecutor said. Berki died about 45 minutes later.
Jordan drove off but crashed the car in a nearby cul-de-sac and the defendants ran off, only to be arrested a short time later, Trocha said.
Abernathy's attorney, Kathleen Coyne, told the jury that her client admitted the robberies and brandishing a gun but was not guilty of murder. She said Abernathy didn't know the gun that killed Berki was loaded, and it discharged accidentally when Jordan suddenly hit the brakes.
Co-defendants Seandell Jones and Shaquille Jordan — who were also convicted of first-degree murder — were each sentenced to 25 years to life. Jones, a front-seat passenger in the getaway car, and Jordan, the driver, were 17-year-old friends of Abernathy at the time of the crimes.