This is an archived article and the information in the article may be outdated. Please look at the time stamp on the story to see when it was last updated.
NEW YORK – A teenager was arrested after a memorial honoring a Navy SEAL was smashed into pieces in New York, police said Friday.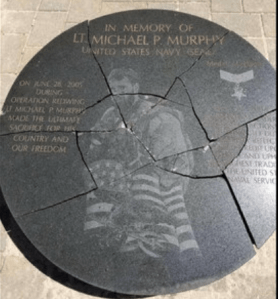 The circular stone monument honoring Lieutenant Michael Murphy, who was awarded the Medal of Honor in 2005 after being killed in Afghanistan, was vandalized at the memorial park in Lake Ronkonkoma.
Suffolk County Police arrested a 14-year-old Ronkonkoma boy Friday morning accused of damaging the Lt. Michael P. Murphy Memorial, FOX 5 New York reported.
The unidentified teen faces charges of second-degree criminal mischief.
In a written statement, Murphy's father, Daniel Murphy, said his family is "heartbroken" by the vandalism.
"There were so many from the community who volunteered their labor, time and money to build Serenity Plaza. It's unfortunate that some devalue the service and sacrifice of our Veterans and Fallen Heroes . . . through damage to a monument," he said.
The movie "Lone Survivor" was based on Murphy and his team.