This is an archived article and the information in the article may be outdated. Please look at the time stamp on the story to see when it was last updated.
ESCONDIDO, Calif. – Escondido police arrested two teenagers Thursday night for allegedly starting at least two small brush fires.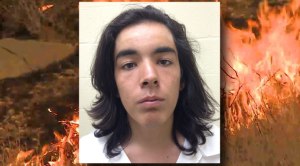 Officers arrested the pair Thursday at about 7:30 p.m. near the Westfield North County Mall   and were being questioned by arson investigators, Escondido police Chief Craig Carter said.
A witness called police after spotting two people set a fire near South EscondidoBoulevard at 6:30 p.m. About an hour later, another person called to say he was chasing two people he saw trying to start a fire in Kit Carson Park near Interstate 15 and Bear Valley Parkway, according to Escondido police.
Both fires were put out before they spread.
Police arrested 19-year-old Isaiah Silva of Escondido and a 17-year-old.
Authorities said they do not believe the suspects were involved in an of the wildfires burning throughout San Diego County.