This is an archived article and the information in the article may be outdated. Please look at the time stamp on the story to see when it was last updated.
EL CAJON, Calif. — A 19-year-old Spring Valley man who allegedly ran down another man with a car during a fight that began at a fast-food restaurant near Cuyamaca College pleaded not guilty Thursday to murder with the use of a deadly weapon.
Darius Risberg Watkins, who was on probation for resisting arrest, was ordered held on $1 million bail in connection with the 2:30 a.m. Monday hit-and-run crash that left Jorge Alberto-Rocha Osuna of National City on life support at Sharp Memorial Hospital in San Diego. Osuna died Wednesday.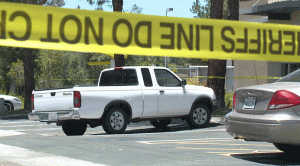 Osuna, 26, was admitted in critical condition after being struck, ending a confrontation that began in a drive-through lane at the McDonald's on Avocado Boulevard in Rancho San Diego, according to sheriff's officials.
Osuna and a companion were waiting for a food order when two other vehicles pulled in behind them, sheriff's officials said. A man exited one of the newly arrived cars and started banging on the windows of the business and on the leading vehicle, prompting the victim and his companion to get out and confront him, sheriff's Lt. Glenn Giannantonio said.
An ensuing argument quickly turned physical, according to the lieutenant. After the scuffle broke up, Osuna and his companion got back into their vehicle and drove to their nearby home in the 3600 block of Avocado Village Court.
However, the drivers of the other two vehicles followed the victim to the residence. Once there, they revved their engines and squealed their tires on the driveway, after which one of them drove toward Osuna, who was on foot in front of his home. The vehicle swerved past him, making no contact, authorities said.
The other driver then did the same thing, but then allegedly backed up and rammed him in reverse, pinning him up against a wall and leaving him with broken bones and serious head trauma, sheriff's officials said.
The assailant drove off, abandoned the damaged vehicle nearby and fled on foot.
On Tuesday, Watkins returned to the fast food restaurant where the altercation began a day earlier and voluntarily went with investigators to a sheriff's station. He was arrested and booked into San Diego Central Jail.
A readiness conference is scheduled June 25 and a preliminary hearing is set for July 2.
Watkins faces 26 years to life in prison if convicted.