This is an archived article and the information in the article may be outdated. Please look at the time stamp on the story to see when it was last updated.
ALPINE, Calif. — Teachers set up picket lines in front of schools in Alpine Thursday after the Alpine Teachers Association voted to go on strike.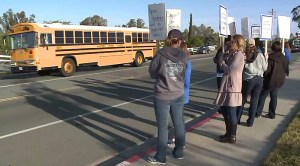 In all, 91 teachers at five school were striking because of what they are calling unfair labor practices by the Alpine School District.
Teachers say the district's last offer would have cut teacher salaries by 7.6 percent and lowered the contribution to worker health benefits from $13,500 a year to $8,000 a year.  In all, it adds up to a 30 percent decrease to the total compensation package, the teachers claim.
"Unfortunately, the district is intent on building their reserve fund and breaking teachers' backs financially, based on faulty financial assumptions," said ATA President Gayle Malone. "Ultimately, it is the students and the entire community who will suffer."
The teachers voted to strike after contract talks with the district broke down Tuesday.
"The union leadership said 'if you don't take our offer, then we have nothing to talk about.'  We can't afford their offer," said Superintendent Tom Pellegrino.  "If we could afford their offer, we would give it to them in a second.  If we employed their offer, our district would go bankrupt, the schools would go bankrupt."
Emotions were running high among the picketers Thursday.
"The respect is not there. It's gone," one teacher told Fox 5. "We love what we do. I've been teaching in this district for 34 years. I love my families. I love the community. I love our kids. But now I have to take a stand and say I need to help our colleagues make this a community that's going to have future teachers who are going to want to come to Alpine and teach and to be here for these kids all the way through their 8th grade year an d possibly a high school if it comes to this area."
Schools in the district are operating with substitute teachers for the time being.
Teachers are urging parents and community members to come to a meeting at Bold Oaks Elementary School at 6 p.m. to hear from teachers and district representatives.
The school district, which is trying to cut $1.35 million from its budget, released a statement saying personnel costs make up 87 percent of expenses, making the pay and benefit cuts necessary.