This is an archived article and the information in the article may be outdated. Please look at the time stamp on the story to see when it was last updated.
SAN DIEGO – San Onofre may be shut down, but the debate over who pays continues.
Residents gathered Tuesday to protest San Diego Gas & Electric rate hikes prior to a California Public Utilities Commission public hearing in San Diego.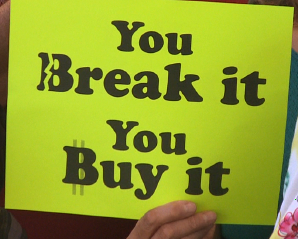 Protestors held signs reading "You Break It, You Buy it" and urged commissioners to put the cost of decommissioning the plant with the utility, Southern California Edison.
"We shouldn't have to pay a dime for this," said Donna Gilmore, San Clemente resident. "If the PUC rewards Edison for this boondoggle what kind of message does that send?"
The Commission held a public hearing in the afternoon and evening, giving residents an opportunity to voice their concerns.
"For everyday people it's really hard, these rate increases that are being proposed," said Derek Casady, La Jolla resident. "I hope they do the right thing."
Ratepayers are also concerned the utility is trying to charge for the power plants that are being used to replace San Onofre. CPUC chairman Mike Florio said a vote will take place on that issue next month.
"People do have to pay for the energy they use, but they shouldn't have to pay twice for it," said Florio. "That's what we're concerned about is that the utilities are asking for recovery of the plant that's not running and the plants that are running to replace the one that's not running. That's overreaching in my view."
Ray Lutz, spokesman for the Coalition to Decommission San Onofre, a grassroots organization, said he will be asking the CPUC to develop a Citizens' Oversight Panel for the $4 billion decommission fund.
"We need a citizen panel there to watch every single dollar that's spent," said Lutz. "And make sure it's spent wisely and that there's no waste, fraud and abuse that goes on."
Critics said documents prove Southern California Edison and the manufacturer, Mitsubishi Heavy Industries, were aware of problems with the replacement steam generators and chose not to make changes. They said Tuesday that's reason enough to lack trust.