This is an archived article and the information in the article may be outdated. Please look at the time stamp on the story to see when it was last updated.
[UPDATE: February 25] OCEANSIDE, Calif. - -A SeaWorld veterinarian team attempted to rescue a wounded sea lion Thursday, but it ended up dying, officials said.
A wounded sea lion with fishing line wrapped tightly around its head had been dodging animal rescue teams in Oceanside over the last eight months, SeaWorld officials said.
In a last resort to rescue the sea lion, the vet used a dart to sedate the animal, said David Koontz, spokesman for SeaWorld. The sea lion was taken out of the water and carried to a truck where it passed away.
"The animal's condition was so compromised that it couldn't handle the trauma from the dart," Koontz said. "The vet wouldn't have been surprised if they would have to euthanize back at Sea World given the condition. The fishing line was so deep, they couldn't even see it in some places in the neck\head​."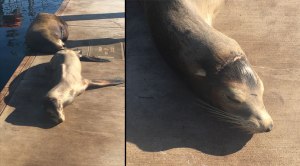 Oceanside's Harbor Master told FOX 5 on Wednesday the animal was not well and getting thinner by the day.  He had been approached by concerned citizens during the three weeks.
"I've been trying to make an effort to come down and he's here, to take pictures and send it to Sea World," said Yoko Stacey, concerned resident.
Fox 5's Sharon Chen came across the injured animal over the weekend when she visited the harbor with her family.  She posted pictures about the sea lion on her Facebook page.
SeaWorld said the rescue team has been monitoring this sea lion for at least eight months, according to Koontz.  They tried several times to rescue the animal to free it of the fishing line, but haven't been able to catch him.
"The animal has the advantage he's either on a floating dock or the local docks and has immediate access to the water," said Jody Westburg, Rescue Team Member.
A big effort to rescue it was made over the weekend and it involved the Harbor Patrol team.  Crews almost caught the animal, but once again he got away.
"I believe a kayaker interfered with this particular rescue and caused the sea lion to be back in the water," said Paul Lawrence, Oceanside Harbor Master.
Yoko has been in constant communication with the Sea World Rescue team.
"They texted me at 7:30 this morning and told me they had the team ready," said Yoko.  "Of course, I come down here and he's no where to be found."
"You can see his ribs, his spine, he's dwindling away he's pretty weak, so I'm just hoping it's not too late," said Yoko.
Koontz said Sea World has rescued 149 marine mammals so far this year, including 138 sea lions.