This is an archived article and the information in the article may be outdated. Please look at the time stamp on the story to see when it was last updated.
LA JOLLA, Calif. – The new year started with dozens of daring San Diegans running, jumping and some tip-toeing into the ocean Tuesday morning.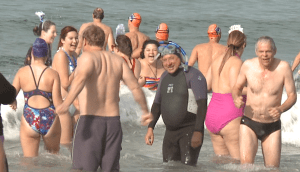 About 100 people gathered around 10 a.m. at Kelogg Park in La Jolla Shores for the annual Polar Bear Plunge into the Pacific Ocean.
Some ran into the cold water while others dipped their toes into the shallow surf in the joy of the New Year.
Similar celebrations were done around the world.