This is an archived article and the information in the article may be outdated. Please look at the time stamp on the story to see when it was last updated.
LOS ANGELES – A swimmer who was attacked by a shark near the Manhattan Beach Pier on Saturday described the incident as terrifying, saying "I felt the shark biting into me and I thought this is it."
Steven Robles was out for a swim with about a dozen friends several hundred yards from shore when the attack occurred about 9:30 a.m.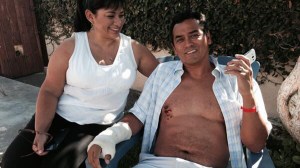 "I saw it come real close to me and then it turned and lunged right at my chest," Robles told CNN on Sunday. "I was in complete panic. I felt the shark biting into me and I thought this is it. Oh, my God, I'm going to die."
He said he grabbed and punched the 7-foot juvenile great white shark's nose and it swam away.
"I thought, I'm going to get this thing off me, and I grabbed his nose," Robles said. "I was fortunate the shark bit into fat tissue and did not go into my organs."
Robles suffered a single bite wound on the right side of his rib cage and was helped to shore by some surfers. He was taken to Harbor UCLA Medical Center for treatment.
"I still feel pretty shaken up," he told CNN on Sunday. "It was pretty scary out there."
Witnesses told authorities that 45 minutes earlier the shark bit a baited hook at the end of a fishing line thrown by a fisherman from the edge of the pier and was thrashing around in the water when it bit the swimmer.
"He was trying to get off the line," said Capt. Tracy Lizotte, a Los Angeles County lifeguard at the beach. "He was agitated and was probably biting everything in his way, and then the swimmer swam right into the shark's line."