This is an archived article and the information in the article may be outdated. Please look at the time stamp on the story to see when it was last updated.
SAN MARCOS, Calif. — A parolee suspected of shooting another man at an apartment complex near Palomar College Thursday was arrested hours later across the county.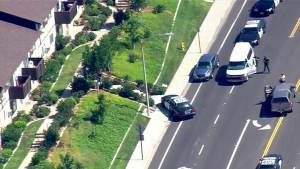 Jose Velasquez, 25, was taken into custody at Grossmont Center mall in La Mesa about 1 p.m. Thursday, about 3 1/2 hours after the gunfire in the 200 block of Knoll Road in San Marcos, according to sheriff's officials.
Deputies responding to the shooting found the victim suffering from an apparently non-life-threatening wound to the abdomen shortly before 9:30 a.m. Medics took him to a hospital.
Deputies evacuated parts of the apartment complex as a SWAT team went through it, looking for the shooter, Lt. James Bolwerk said. Authorities closed Knoll Road between West Mission Road and Los Vallecitos Boulevard as a precaution.
The assailant was not found in the area, and the search was called off in the early afternoon.
Velasquez was arrested on an unrelated alleged parole violation, sheriff's spokeswoman Melissa Aquino said. It was not immediately clear what led deputies to believe he had been involved in the San Marcos case.
Knoll Road remained closed at Los Vallecitos Boulevard closed in the late afternoon, Aquino said.
Officials released no suspected motive for the shooting.