This is an archived article and the information in the article may be outdated. Please look at the time stamp on the story to see when it was last updated.
SAN YSIDRO, Calif. - A baby inside a San Ysidro apartment was not harmed when a man inside held off a police SWAT team for more than seven hours.
The standoff ended peacefully Sunday with the surrender and arrest of Nicholas Schaefer, 25, the discovery of the baby in the apartment and the recovery of a loaded gun, according to San Diego Police. Several nearby apartment units were evacuated.
San Diego police went to Park Haven apartments on Camino de la Plaza, across the street from the Las Americas Premium Outlets mall, after receiving a report of an argument between Schaffer, and his girlfriend, Officer James Kremer said.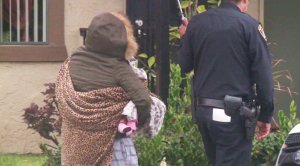 SDPD Capt. Alberto Leos said they brought in the SWAT team after the alleged intoxicated suspect refused to come out of the apartment, was waiving a weapon and had threatened the mother of the baby. Several nearby apartment units were evacuated.
Danilla Lyva, 13, her mother and little sister were among those forced to leave their home. They said Schaffer has only lived at the apartment for a month and in that time they often heard him fighting with his girlfriend.
"I was really scared, because the officers were carrying those guns and I was nervous," said Lyva.
SWAT eventually turned to using a non-lethal tool to force Schaffer out of his apartment.
The standoff ended with one suspect in custody. Police handed the unharmed baby over to the mother.
No one was injured. Schaffer faces domestic violence charges.
Domestic violence standoff ends peacefully. @fox5sandiego https://t.co/rtg8Q44R3N

— Felicia Martinez (@FeliciaKSL) February 19, 2017