This is an archived article and the information in the article may be outdated. Please look at the time stamp on the story to see when it was last updated.
SAN DIEGO — Heavily armed SWAT officer broke down the door of a home in Grant Hill Thursday evening  and rescued a woman who was being held hostage by a man armed with a butcher knife.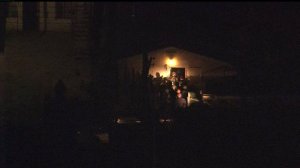 Officers used pry bars to force open a metal security screen door just before 6 p.m.  At least half a dozen officers then rushed through the front door. Minutes later, they escorted the woman outside to safety and called for paramedics to attend the alleged hostage taker.
The events leading to the standoff in the 100 block of 30th Street began with a domestic disturbance call about 4 p.m., according to San Diego police.
The suspect, who reportedly had been drinking heavily and throwing things around the house, refused officers' orders to exit unarmed and give himself up. The man was seen clutching a large kitchen knife and was believed to be holding a woman against her will in the home.
The Special Weapons and Tactics team was called in about 5:15 p.m., police said.
After storming the home, officers shot the suspect with a beanbag fired froma shotgun. He was treated for minor injuries and taken to jail.
The woman was taken into custody, unharmed, for questioning.