This is an archived article and the information in the article may be outdated. Please look at the time stamp on the story to see when it was last updated.
SAN DIEGO – A teenaged girl who was considered volatile was in custody after a six hour standoff in Mira Mesa Tuesday night.
The standoff started when San Diego police received a call that an unnamed high school student was "very upset" with her parents and threatened to harm herself, a police officer said.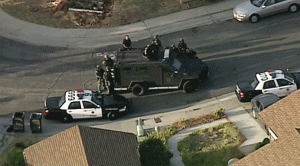 Police went to the home in the 9000 block of Clover Circle at 4:30 p.m. SWAT members joined the police standoff at 6 p.m. when the 18-year-old girl barricaded herself in a bathroom.
Family members said there were several guns in the house, including a handgun, rifle and shotgun, but officers said the suspect did not have any of them when they took her into custody.
Officers cleared people out of nearby residences as a precaution.
SWAT officers waited patiently for hours, finally making contact with the teen late late in the evening. After threatening suicide several times, the high school senior turned herself in to police officers at 10:20 p.m.
The teenager was taken to the hospital for a psychological evaluation.