This is an archived article and the information in the article may be outdated. Please look at the time stamp on the story to see when it was last updated.
SAN DIEGO — A San Diego police officer who was suspended last month after his wife claimed he hit her has filed for sole custody of the couple's two daughters, saying his wife is bipolar and a danger to the children.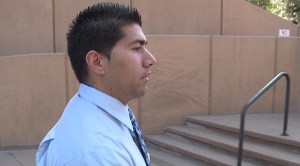 Gilbert Lorenzo filed a court declaration Monday stating that he had never hit his wife, but she had attacked him on several occasions.
Lorenzo was arrested Monday night for the second time on suspicion of choking his wife, Tanya. He was released Tuesday morning after posting $50,000 bail. Police also arrested him on April 22 on suspicion of domestic battery, and the next day SDPD Chief Shelley Zimmerman suspended him from the force pending the outcome of the investigation.
In his court declaration, Lorenzo claimed that his wife fabricated both incidents.
"Tanya is extremely volatile and unstable. She is bipolar and takes prescription medications (sometimes) for this disorder," the declaration said. To make matters worse, she abuses alcohol, cocaine and methamphetamine, according to the court filing.
"These issues, combined with her propensity for violence, threats of suicide, and alleged 'blackouts,' raise cause of extreme concern," Lorenzo wrote. "Our young daughters are in danger if left alone with their mother. It is only a matter of time before something catastrophic happens."
Lorenzo stated that his wife has threatened in the past to take the girls and disappear to Mexico. She also told him that it would be easy for her to kill him, according to the declaration.
Lorenzo said he was suspended from the police force because of his wife's false accusation, but "I expect by the time of the hearing in this (custody) matter to have been fully exonerated and reinstated at my employment."
Lorenzo is requesting the court to place the two daughters with him in the family's La Mesa apartment. He wants his wife to be allowed to visit the girls three times a week, but only under professional supervision.
"When Tanya has demonstrated she can remain clean and sober, and maintain her medication and mental health treatment, her visitation schedule should be expanded," the declaration said.
Lorenzo is a seven-year veteran of San Diego Police Department.