This is an archived article and the information in the article may be outdated. Please look at the time stamp on the story to see when it was last updated.
SAN DIEGO – A man suspected of fatally attacking his wife at a North Las Vegas residence six months ago has ties to San Diego and may be in the area, police said today.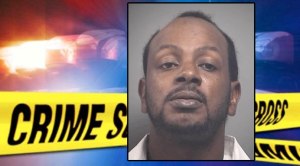 Anthony Tyron Mayo, 37, is wanted on suspicion of murder, coercion and domestic battery stemming from the attack and subsequent death of 40-year-old Beverly McFarlene, according to North Las Vegas police Public Information Officer Chrissie Coon.
On Aug. 10, officers received a report about domestic violence and went to a North Las Vegas home to find McFarlene suffering from head, neck and abdomen injuries, Coon said.
McFarlene was slurring her speech and unable to communicate basic information but investigators managed to learn the victim was allegedly attacked by her husband two days earlier and that two girls, ages 5 and 9, were present for the attack. Coon said the girls were taken into protective custody as medics took McFarlene to an area hospital, where she died Aug. 23 of a significant brain injury.
An arrest warrant for Mayo was issued Feb. 4.
"Domestic violence cases are often times fueled by rage," Coon told KLAS-TV Las Vegas. "These attacks occur in the heat of the moment and are oftentimes fueled by emotion. It was reported that some time during the alleged attack, she was also struck with a household vacuum cleaner."
Court documents showed the 9-year-old girl at the home for the attack was the couple's daughter and she told investigators that her father threatened her if she called authorities, according to the news station.
Police described Mayo as black, 5 feet 11 and 150 pounds, with black hair and brown eyes. He has family in Southern California and may be in San Diego, Palmdale or Los Angeles, according to Coon, which encouraged anyone with information on Mayo's whereabouts to call North Las Vegas police at (702) 633- 9111, or Las Vegas-area Crime Stoppers at (702) 385-5555.