This is an archived article and the information in the article may be outdated. Please look at the time stamp on the story to see when it was last updated.
ESCONDIDO, Calif. – Authorities were searching for a man whose wife was found dead by a child in an Escondido home Wednesday morning.
Officers received a call around 11 a.m. from a child who said he was unable to awaken his mother, Escondido police Lt. Neal Griffin said.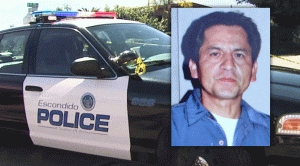 When officers arrived to the house on 1500 block of East El Norte Parkway they found the body of 43-year-old Jacinto Montalvo.
Investigators determined Montalvo was a victim of homicide and named her husband Jesus  "Tony" Flores Hernandez, 46, as the murder suspect, said Griffin, who would not disclose what led them to that conclusion.
Hernandez is a Hispanic man with black collar length hair and brown eyes.  He's 5-feet, 6-inches tall and weighs 150 pounds.  Police said he drivers a 2004 tan GMC Canyon pick-up truck with CA-license plate 7D60443.
Anyone with information about his location should call 911.  An anonymous tipsters should call 760-743-8477.