This is an archived article and the information in the article may be outdated. Please look at the time stamp on the story to see when it was last updated.
ESCONDIDO, Calif. – A suspected drunken driver crashed into a power pole in Escondido Sunday, knocking out power and prompting police to close a road all day.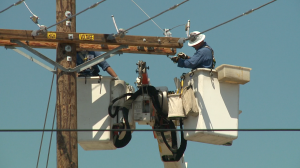 The driver crashed into a pole near East El Norte Parkway and East Lincoln Avenue about 3:30 a.m., and was subsequently arrested for suspicion of drunken driving, Escondido police Sgt. Scott Walters said.

A SigAlert was issued about 4:20 a.m., according to the California Highway Patrol.

Westbound El Norte Parkway remained closed between Citrus Avenue and La Honda Drive, but eastbound El Norte Parkway had been reopened by early afternoon, Escondido police said.

As of 12:45 p.m., 12 San Diego Gas & Electric Co. customers in northeast Escondido were without service, according to the utility.
SDG&E expected crews to have full service restored around 7 p.m.