This is an archived article and the information in the article may be outdated. Please look at the time stamp on the story to see when it was last updated.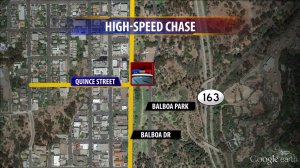 SAN DIEGO – A man who allegedly robbed a bank in Kearny Mesa Saturday led police to an area west of Balboa Park, where he was arrested, police said.
The suspect handed a demand note to a teller at the Wells Fargo Bank at the corner Clairemont Mesa Boulevard and Ruffin Road at 11:11 a.m., according to San Diego police Officer Frank Cali. He acted like he had a gun, but did not show one, Cali said.
The suspect left the bank with an undisclosed amount and got into a silver van with two other occupants, Cali said. They sped east on Clairemont Mesa Boulevard, he said.
Officers stopped the van in the vicinity of Antigua Boulevard and Portobelo Drive, near Miramar, but as they were arresting the would-be getaway driver and another person, the robbery suspect jumped into the driver's seat and took off, Cali said.
The pursuit followed freeways from Tierrasanta to Santee and back to San Diego. Police attempted several times to use spike strips in an effort to stop the suspect. It ended on the Quince Drive off-ramp from State Route 163 where he was arrested, Cali said.
The names of the arrestees were not immediately released.
The pursuit caused various traffic delays on several freeways in San Diego.