This is an archived article and the information in the article may be outdated. Please look at the time stamp on the story to see when it was last updated.
SAN DIEGO — The suspected killer of a man whose dismembered body was found three months ago in a ravine on Oahu was behind bars in San Diego Wednesday and facing extradition to Hawaii to face murder charges.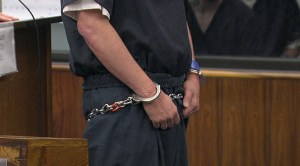 Members of a U.S. Marshals Service fugitive task force arrested 46-year-old Bryan Suitt late Monday afternoon at his mother's Coronado home in connection with the death of Alex "Gonzo" Gonzales, 34.
Suitt surrendered peacefully and was booked into San Diego Central Jail, Deputy U.S. Marshal Martin Escobar said. The suspect was being held without bail pending extradition proceedings.
On Nov. 26, an Oahu grand jury indicted Suitt on suspicion of second- degree murder. Authorities have disclosed no motive for the killing, according to the Honolulu Star-Advertiser.
Gonzales' dismembered and decomposing body was found Sept. 15 in off Mililani Memorial Park Cemetery Road in the town of Waipio by a couple looking for recyclables.
Police released photos of the then-unidentified victim's tattoos, seeking the public's help in identifying him, and asked the Marshals Service for help, since Suitt was believed to live in the mainland United States, the newspaper reported.
Gonzales, who had an auto-theft conviction and several misdemeanor convictions on his criminal record, moved in with friends in Kalihi about two months before his death, his former girlfriend Rachel Main told the Star- Advertiser.
According to postings on his Facebook page, Gonzales was from Long Beach, his mother lives on Kauai, and he has a sister who resides in California.