This is an archived article and the information in the article may be outdated. Please look at the time stamp on the story to see when it was last updated.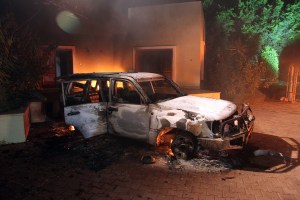 The U.S. military has captured a man believed to be one of the ringleaders of the deadly attacks on the American diplomatic compound and a CIA base in Benghazi, Libya, in September 2012, officials said Tuesday.
According to the Pentagon, Ahmed Abu Khatallah is in U.S. custody in a secure location outside of Libya.
Military officials said no civilians were injured in the raid and that all U.S. personnel involved have safely left the country.
Last year, federal prosecutors filed sealed charges against Khattalah over the Benghazi attack, in which scores of militants using rocket-propelled grenades and other weapons attacked the compound. Khattalah's arrest is the first in connection with the attack.
U.S. Ambassador Christopher Stevens and three other U.S. citizens died in the September 11, 2012, attack, which became a political flashpoint.