This is an archived article and the information in the article may be outdated. Please look at the time stamp on the story to see when it was last updated.
LA MESA, Calif. — A 20-year-old man led law enforcement officers on a chase in an allegedly stolen vehicle from La Mesa to the U.S.-Mexico border, where he crashed and was arrested.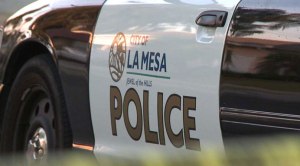 Steven Fernandez was booked into jail Saturday on a number of charges, including suspicion of vehicle theft, possession of a stolen vehicle and felony evading, according to jail records.
The chain of events that led to Fernandez's arrest began shortly before 9 p.m. Friday, when a La Mesa police officer spotted the car, which had been reported stolen from Las Vegas, as it headed onto southbound state Route 125 from Grossmont Boulevard, according to La Mesa police.
Officers pursued the vehicle onto westbound state Route 94, southbound Interstate 15 and then southbound Interstate 5, according to police. National City police joined in and attempted to stop the vehicle when it passed through the city on Interstate 5, according to police.
Police discontinued the pursuit as the driver approached the U.S.-Mexico border. Fernandez then allegedly crashed into a roadside barrier and was arrested with the assistance of San Diego police officers, sheriff's deputies and border patrol agents, La Mesa police said.
Police later learned that Fernandez was wanted on an outstanding felony warrant, police said.
Police asked anyone with additional information to call them at (619) 667-1400, or contact Crime Stoppers at (888) 580-8477 or via email at sdcrimestoppers.com.