This is an archived article and the information in the article may be outdated. Please look at the time stamp on the story to see when it was last updated.
SAN DIEGO – San Diego police said the suspect who made off with a valuable piece of artwork during a busy music festival in November was in custody and social media played a big role in catching the brazen thief.
After months of investigating, police found who they suspect walked away with painting of LeBron James during the busy "Beat Street Hip Hop" festival.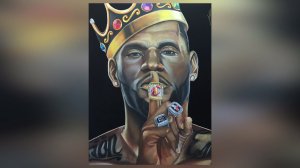 Pako Pablos is the local artist internationally known for his paintings that feature actors, social icons, sports and music figures. Pablos said the thief was able to walk away with the painting without anyone noticing, but then led police straight to him, via social media.
"My paintings are one of a kind, unless it's a print or it's from digital version, but it can't be duplicated," said Pablos.
"Two days after I contacted [FOX 5], there was a screenshot of the painting saying 'I walked out with a souvenir from the Twista concert' and it was the LeBron painting," Pablos said. "He posted it online and of course Instagram, everyone knows everything on Instagram."
The painting of LeBron James is part of a series Pablos has been working on called "Lords Of The Rings." He estimates its value at close to $4000.
Detectives said the suspect may have destroyed or sold the painting in order to get rid of the evidence.
"At this point we have the suspect. Unfortunately, we don't have the painting and that's what I needed. Just to know the guy is under police right now is a relief," said Pablos.
San Diego police detectives and the San Diego County District Attorney's Office will review the case.