This is an archived article and the information in the article may be outdated. Please look at the time stamp on the story to see when it was last updated.
EL CAJON, Calif. — Police have arrested a suspect nearly three months after a brutal parking lot attack on a 76-year-old man following a traffic dispute in El Cajon.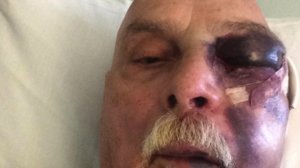 Detectives arrested Thomas Clayton Sikes, 56, for the attack at about 10 a.m. on April 30 in the parking lot of a CVS Pharmacy at 572 Fletcher Parkway. Police identified Sikes after receiving tips from people who saw news reports about the incident.
Last month, police released surveillance video of the attack in hopes of identifying the attacker. The video showed a man walking over to Ron Torncello's vehicle, talking briefly with Torncella and then punching him in the face. Torncello suffered major injuries requiring two reconstructive surgeries, according to El Cajon police and Crime Stoppers.
"He just opened the door and says, 'You're talking on your cellphone and I've got you on video.' I told him I really didn't care if he had me on video. That's when he hauled off and hit me," Torncello told Fox 5 in June.
Sikes, a resident of La Mesa, was booked into San Diego central jail on charges of assault with a deadly weapon, and assault causing great bodily injury.  He was being held on $35,000 bail pending arraignment, scheduled for Monday afternoon.