This is an archived article and the information in the article may be outdated. Please look at the time stamp on the story to see when it was last updated.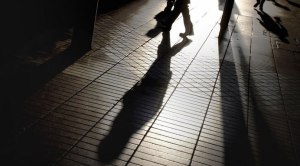 EL CAJON, Calif. — A man, who allegedly tried to abduct a student in a Grossmont College parking garage Tuesday with the intention of raping her fled when a passer-by intervened, was arrested a short time later.
The victim was about to get into her car at the western El Cajon campus shortly before 11:30 a.m. when the stranger came up from behind, put a knife to her neck and pushed her into the vehicle, sheriff's Sgt. Vic Perry said.
As the woman struggled to free herself, a nearby man saw what was happening and honked his car horn until the assailant ran off, according to Perry.
Deputies assigned to patrol the college then searched the campus, found a man matching the description of the attacker nearby and took him into custody.
The suspect assailant was identified as 26-year-old Anthony Jerome Washington Jr.
After being arrested, Washington allegedly confessed that he had planned to rape the student "and do whatever he had to in order to get his way," the sergeant said.
Washington was booked into San Diego Central Jail on suspicion of assault with intent to commit rape and false imprisonment with violence.