This is an archived article and the information in the article may be outdated. Please look at the time stamp on the story to see when it was last updated.
SAN DIEGO – Woody Morrison, 46, is a self-proclaimed "prepper" and wants more people to be like him.
Preppers or survivalists by definition are individuals or groups who are actively preparing for emergencies including possible disruptions in social or political order on scales from local to international.
"Part of my prepper mentality is an insurance policy," Morrison said.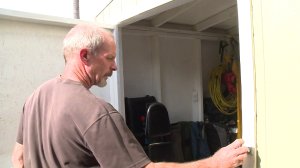 He is leading the surge of "suburban survivalists," or urban professionals prepared to be self-sufficient in an emergency.
Morrison transitioned his North County coastal home in a safe haven for his family.
"The Y2K and the end of the Mayan calendar – these things did not actually cause problems. It was the potential for peoples' reactions that caught my attention," Morrison said.
He stockpiled enough food and water at his home to keep his family alive for several months.
He also grows his own food, like beans, onions and strawberries. A solar power system has been installed at his home.
"If we have a major outage, I would disconnect from power company and hook it up and go off the grid," he said.
His passion about prepping started a meetup group called "North County Preppers."
"I wanted to attract people that had the same mentality that I did," Morrison said.  The group has grown to 120 members in a year and a half.
Morrison believes there is a practical way to prepping that is cost effective.  He has spent a couple thousand dollars, excluding the solar power system.