This is an archived article and the information in the article may be outdated. Please look at the time stamp on the story to see when it was last updated.
SAN DIEGO — Hours after a shark attacked a woman at San Onofre State Beach surfers returned to the water. The area was closed Sunday, but lifeguards say people are entering at their own risk.
Sunday shark warning signs lined San Onofre Beach, but Kevin Goncher was one the first surfer's to return to the water even after being evacuated the day before.
"Lifeguards came in the truck and hollered at us and told us to get out of the water because there was a shark attack," said Kevin Goncher of San Clemente.
"We see sharks out here all the time, so it's kind of one of those things we even named one 'Fluffy,'" said Aubrey Lao a regular surfer at San Onofre.
There's no telling what shark attacked the woman Saturday evening, but surfers like Lao said it won't stop diehards from hitting the waves.  Regular beachgoers at San Onofre told FOX 5 the attack took place at a popular surf spot called "Churches."
The woman attacked was in her 30s and had been camping with family since Friday, a witness said. She and a group of surfers went out to the water and she hadn't been in more than 15 minutes.
"She was swimming. She wasn't on a board and had flippers on. I guess she might have looked like a seal. I heard it bit her in the leg and couple surfers got her in, tied off the wound with a kind of tourniquet with the surf leach and then we saw the airlift grab her," said Goncher.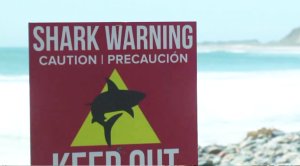 Earlier this month, a great white was spotted jumping out of the water just north of San Onofre at Lower Trestles near San Clemente. Surfers said shark sightings and attacks are just part of the risk.
"We see them all the time especially up at trail one.  There's like 5 to 6-foot great whites there all the time. They're always cruising in through here, they've always been here," said Goncher.
"You just kind of have to remind yourself you're in the ocean and hope that luck is with you on that day," said Lao.
Camp Pendleton officials confirmed the woman was airlifted to Scripps La Jolla at 6:24 p.m. Saturday. Her name has not been released. They also say the shark warning signs will stay in place throughout the week.
The beach will be closed until Wednesday morning.
The GoFundMe page was set up by Christine McKnerney Leidle of Escondido, reportedly the mother of the victim.