This is an archived article and the information in the article may be outdated. Please look at the time stamp on the story to see when it was last updated.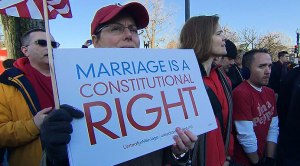 WASHINGTON — The Supreme Court Wednesday opened the door for same-sex marriages to resume in California by turning away the defenders of Proposition 8.
The court dismissed the closely-watched appeal over the state's same-sex marriage ban on jurisdictional grounds, ruling Wednesday private parties do not have "standing" to defend the voter-approved ballot measure barring gay and lesbians couples from state-sanctioned wedlock.
"We have never before upheld the standing of a private party to defend the constitutionality of a state statute when state officials have chosen not to," according to the court's ruling, penned by Chief Justice John Roberts. "We decline to do so for the first time here."
Roberts was joined in the majority by Justices Stephen Breyer, Ruth Bader Ginsburg, Elena Kagan and Antonin Scalia.
Since Proposition 8 supporters had no standing, the court did not issue a ruling on the merits of same-sex marriage or Prop. 8, but merely let stand the original federal court ruling striking down the measure. The Supreme Court's action means same-sex marriage will be legal in California, but not across the nation.
The nation's highest court today also struck down a key portion of the federal Defense of Marriage Act, which was enacted in 1996 and defined marriage solely as a union between opposite-sex couples. The court ruled that the act was unconstitutional by denying federal benefits to legally married same-sex couples.
Backers of gay marriage plan to gather for a rally at the Hillcrest Pride Flag at 5 p.m., at University Avenue and Normal Street. The rally is expected to continue later at the LGBT Community Center, 3909 Centre St.
In Oceanside, a rally is scheduled for 6 p.m. at the North County LGBTQ Resource Center, 510 N. Coast Highway.
San Diego City Council President Todd Gloria, who is gay, said today was a "proud day to be an American."
"When civil rights are secured for more people, our country is stronger," Gloria said. "I am grateful to every person who loved and lived proudly and who worked hard and sacrificed to make this justice a reality.
"I will be asking the City Council's Rules Committee to examine all of the city's policies to make sure they are consistent with post-DOMA federal regulations and that our employees are afforded proper benefits."
But Randy Thomasson, president of SaveCalifornia.com, which supports Prop. 8, said today's rulings were an attack on the institution of marriage.
"The high court's refusal to correct the unconstitutional rulings of lower-court judges and the dereliction of duty by constitution-bound state officials demonstrates that not only is natural, man-woman marriage no longer respected, but neither is our republic and system of written laws," Thomasson said.
In March 2000, California voters approved Prop. 22, which specified in state law that only marriages between a man and a woman are valid in California. But in May of 2008, the state Supreme Court ruled the law was unconstitutional because it discriminated against gays, and an estimated 18,000 same-sex couples got married in the ensuing months.
Opponents of same-sex marriage quickly got Prop. 8 on the November 2008 ballot to amend the state constitution, and it was approved by a margin of 52.5 percent to 47.5 percent.
In May 2009, the California Supreme Court upheld Prop. 8 but also ruled that the unions of roughly 18,000 same-sex couples who were wed in 2008 prior to its passage would remain valid.
Same-sex marriage supporters took their case to federal court, and U.S. District Judge Vaughn R. Walker ruled in August 2010 that Proposition 8 "both unconstitutionally burdens the exercise of the fundamental right to marry and creates an irrational classification on the basis of sexual orientation."
Backers of Proposition 8 — ProtectMarriage.com — appealed to the 9th Circuit, because then-Gov. Arnold Schwarzenegger and then-Attorney General Jerry Brown declined to do so. The appellate court heard arguments in 2011 but put a decision on hold while it awaited a state Supreme Court ruling on the ability of Prop. 8 backers to press the case forward despite the state's refusal to appeal.
The state Supreme Court decided that Prop. 8 supporters had legal standing, so the 9th Circuit moved ahead with its consideration of the case, hearing more arguments on a motion by Prop. 8 backers asking that Walker's ruling be thrown out because the judge was in a long-term same-sex relationship that he had not disclosed.
A three-judge panel of the U.S. 9th Circuit Court of Appeals ruled last year that the proposition's primary impact was to "lessen the status and human dignity of gays and lesbians in California."
"It stripped same-sex couples of the ability they previously possessed to obtain and use the designation of `marriage' to describe their relationships," according to the court's decision.
"Nothing more, nothing less. Proposition 8 therefore could not have been enacted to advance California's interests in child-rearing or responsible procreation, for it had no effect on the rights of same-sex couples to raise children or on the procreative practices of other couples.
"Nor did Proposition 8 have any effect on religious freedom or on parents' rights to control their children's education; it could not have been enacted to safeguard those liberties."
That ruling led to the appeal to the U.S. Supreme Court.
On its website, officials with ProtectMarriage.com said they would continue defending Proposition 8 and noted that they were "pleased" the Supreme Court effectively overturned the 9th Circuit ruling overturning the measure.
"For the more than 7 million Californians who have seen their vote stripped away from them, little by little, over the course of five years, that decision is gratifying," according to the group. "While it is unfortunate that the court's ruling does not directly resolve questions about the scope of the trial court's order against Prop 8, we will continue to defend Prop 8 and seek its enforcement until such time as there is a binding statewide order that redners Prop 8 unenforceable."