This is an archived article and the information in the article may be outdated. Please look at the time stamp on the story to see when it was last updated.
WASHINGTON — The U.S. Supreme Court threw out an invasion-of-privacy lawsuit against a La Mesa police officer Monday, saying the Constitution does not make it clearly illegal for officers to pursue a potential suspect into a homeowner's private yard.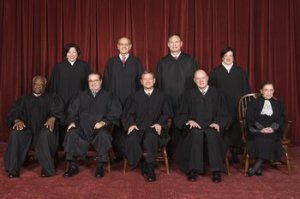 The justices unanimously reversed a ruling by the U.S. 9th Circuit Court of Appeals, which had upheld the homeowner's lawsuit and said the officer had violated the 4th Amendment's ban on "unreasonable searches."
In the past, the justices had said officers in a "hot pursuit" of a fleeing suspect may enter a private home or yard. On Monday, they said an officer in such a case has not clearly violated the law even when the individual being pursued is not a violent felon.
The case began when Officer Mike Stanton responded about midnight to a call reporting an "unknown disturbance" in La Mesa. The area was known for gang violence, and upon arriving, Stanton saw one young man walk across the street toward a residence.
Stanton called out, "Police," and told the man to stop. When the man entered a yard through a fence, Stanton pursued him and kicked open the gate. Standing next to it was Drendolyn Sims, the homeowner. She was knocked down and struck her forehead on the steps.
The young man, identified as Nicholas Patrick, was stopped and questioned but was not charged with a crime.
Sims sued officer Stanton, alleging he had violated her constitutional rights by entering her private yard. A federal district court judge disagreed.
But the 9th Circuit, in an opinion by Judge Stephen Reinhardt of Los Angeles, ruled that the officer had violated the law. He noted that Stanton did not have reason to believe the young man was dangerous or had committed a crime, other than not responding to his question.
The officer appealed. Without bothering to hear arguments, the high court issued an eight-page unsigned opinion reversing the 9th Circuit in Stanton vs. Sims.
The court said officers have "qualified immunity" from lawsuits if their actions do not violate a clear constitutional rule, and Stanton's "split-second decision to enter Sims' yard" did not clearly violate the Constitution.
"Stanton was in hot pursuit of Patrick. He did see Patrick enter Sims' property, and he had every reason to believe that Patrick was just beyond Sims' gate," the court said. Under the circumstances, it was not clear that Stanton's action was unreasonable or unconstitutional, the justices concluded.