This is an archived article and the information in the article may be outdated. Please look at the time stamp on the story to see when it was last updated.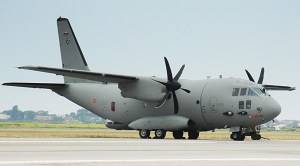 SAN DIEGO — The San Diego County Board of Supervisors called on the U.S. Department of Defense Tuesday to transfer as many as seven excess aircraft to the U.S. Forest Service for aerial firefighting in the region.
Air Force officials plan to retire some C27 aircraft this fall and make the twin-engine, turboprop-driven cargo planes available to the Forest Service, which, according to Supervisors Greg Cox and Dianne Jacob, has a shortage of firefighting planes.
"We have an opportunity to pick up a number of C27 aircraft that are being retired from service," Cox said. "Ironically I think most of these are probably newer than the aircraft that's currently in use by the U.S. Forest Service, so these could be a tremendous addition to our firefighting arsenal — not just in San Diego County, but in Southern California."
Jacob said the C27s could carry a more than 25,000 pound "payload," which would translate to a retardant capacity of up to 2,500 gallons — more than Cal Fire's aircraft dispatched out of Ramona could support.
"The Forest Service is in dire need of additional aerial firefighting capabilities, and rather than allow these planes to just sit idle, these aircraft can be retrofit and made available for fighting fires in our region where the fire risk is always high," Jacob said.
The planes could be used for transport in as little as a few months. However, it could take up to 18 months before they could be modified to drop water and retardant, according to the supervisors.
"There's a lot to be done yet before they can actually be added to our firefighting fleet," Jacob said. "But this is the first step, at least to get them transferred out here."
Cox said it became apparent after meeting with officials in Washington, D.C., including Sen. Dianne Feinstein, D-Calif., that "there was an opportunity to take advantage of surplus military transports that were being phased out of the Afghanistan conflict."
The Department of Defense has already approved the transfer of some C27s to the U.S. Coast Guard.
Also at this morning's meeting, the supervisors approved spending an additional $2 million on the waterfront park taking shape around the County Administration Center and set to open next spring.
The extra funds will pay for a playground, artwork, repairs to a handrail, paving on the east side of the county building, utility lines for adding bathrooms in the future and an odor scrubber for the city's next-door sewage treatment plant.
The added $2 million, which brings the total price tag of the 15-acre park to $49.4 million, would also pay for related inspection, project management contingencies and design work.
Separately, the supervisors approved a contract today with the 9,500 workers who are members of the Service Employees International Union Local 221. The deal provides 2 percent wage increases in June 2015 and in June 2016, along with a pair of 2 percent bonus payments.
"I really believe that this is going to lead to labor peace for the next four years," Supervisor Dave Roberts said.