This is an archived article and the information in the article may be outdated. Please look at the time stamp on the story to see when it was last updated.
BANNING, Calif. — A fire that has burned 3,000 acres of vegetation near Banning is 40% contained, the Riverside County Fire Department reported Thursday morning.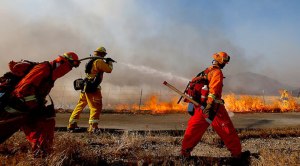 In addition, a second firefighter was injured overnight while holding the line and one home has been destroyed.
Evacuation orders were lifted Wednesday night for a mobile home park and other areas that were threatened earlier in the day as strong Santa Ana winds pushed the Summit fire's flames across Riverside County's parched mountainside areas, officials said.
Firefighters were able to take advantage of a lull in the winds, which earlier were gusting up to 35 mph. The blaze had burned 2,956 acres of medium to light vegetation as of Wednesday night, the Riverside County Fire Department said.
By Thursday morning, the winds were down to 28 mph with 40 mph gusts and a relative humidity of 10%, according to the California Department of Forestry and Fire Protection.
Evacuation orders were lifted for residents of the Highland Springs Mobile Home Park, where firefighters made a stand Wednesday evening as flames burned toward the area.
Earlier, at least 500 people had been evacuated as hundreds of firefighters from several jurisdictions worked to beat back the flames. They were being aided by a dozen helicopters and air tankers that made repeated water and fire-retardant drops.