This is an archived article and the information in the article may be outdated. Please look at the time stamp on the story to see when it was last updated.
SAN DIEGO — A local group is suing the California Department of Transportation in a bid to prevent the expansion of Interstate 5 along coastal San Diego County.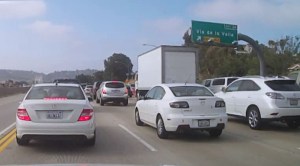 The Cleveland National Forest Foundation alleges that Caltrans did not comply with state environmental law when it approved the Interstate 5 North Coast Corridor Project. The foundation is asking a judge to delay any construction activities until the court has an opportunity to evaluate CNFF's concerns about the project.
"Caltrans is stuck in a 1950s mentality, where building more and bigger freeways is seen as the solution to congestion," said CNFF President Jack Shu.
"Studies and our own experience in Southern California have proven that widening freeways only accomplishes one thing: enticing more single-occupancy vehicles onto the road," he said. "If Caltrans really wants to reduce congestion through High Occupancy Vehicle (HOV) lanes, all it needs is some signs and paint. The infrastructure costs and long-term public health and public safety impacts associated with this project far outweigh the short-term benefits it might provide."
A Caltrans representative did not return a call seeking comment on the suit, filed Wednesday in San Diego Superior Court.
According to the plaintiff, Caltrans projects that, with the expansion, the number of vehicles on the freeway will rise by about 50 percent from current levels, resulting in 140,000 more vehicles per day on some sections of the freeway.
Along with increased traffic, the freeway expansion will increase air pollution in the region, which already gets a failing grade from the American Lung Association, according to the lawsuit.
The massive expansion explosion will also trigger a surge in greenhouse gas emissions, in direct conflict with state laws calling for aggressive emission reductions, and stimulate sprawl development, threatening the region's open space and wilderness areas, according to the CNFF.