This is an archived article and the information in the article may be outdated. Please look at the time stamp on the story to see when it was last updated.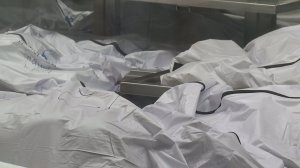 SAN DIEGO – The number of suicides logged by the San Diego County Medical Examiner's Office was the highest on record last year, with 441 people killing themselves, according to a report released Tuesday.
Suicides made up about 15 percent of the nearly 3,000 deaths investigated by the county Medical Examiner's Office in 2013.
Accidental methamphetamine overdoses were implicated in 190 deaths, the highest number since 2000, the report said. Prescription drug overdoses were the most common cause of accidental deaths, although the number was slightly lower in 2013 than in previous years, according to the report.
"One of the main reasons our office compiles this report is to help identify patterns and trends for various deaths, many of which are preventable," Chief Deputy Medical Examiner Dr. Jonathan Lucas said. "This data is useful to identify issues that may need additional resources. The data may also show whether prevention education efforts are working to address previously identified problems."
Cardiovascular disease was the leading cause of natural deaths, with obesity listed as a a major risk factor, the report said.
According to the report, 45 percent of the investigated deaths last year were accidental, 36 percent were deemed natural, 15 percent were suicides and 3.3 percent were homicides, the report said. In 1.3 percent, the manner of death could not be determined.
Alcohol, implicated in 127 deaths, was the second leading cause of accidental deaths, behind methamphetamine overdoses. Heroin was blamed in 89 cases — mostly among people in their 20s, according to the report.
Homicides declined to 88 last year, the report said. In 39 killings, firearms were used, and 22 people died in cuttings or stabbings. Fifteen people were killed by blunt force, and 10 died at the hands of law enforcement officers.
Nearly 250 people died in vehicle crashes last year — or about 20 less than in 2012, according to the report, which called alcohol was a "major factor" in the deaths.
About 20,000 people die each year in San Diego County, almost half of which are reported to the Medical Examiner's Office. The agency conducted 1,955 autopsies and 1,019 external examinations in non-natural deaths in 2013, as well as in a few natural deaths of younger people or that had occurred unexpectedly.