This is an archived article and the information in the article may be outdated. Please look at the time stamp on the story to see when it was last updated.
SAN DIEGO – About a hundred Lincoln High students walked out of class Thursday morning to protest the school district's selection process for a new principal.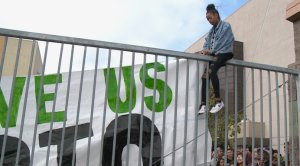 Lincoln High School has been without a principal for about a year as the previous leader left the position for a job in the district. An interim principal has been assigned to the school.
Facility told FOX 5 the students staged the protest inside the school courtyard to demand their Vice Principal Jose Soto be considered for the principal vacancy. Students chanted Soto's name and walked to show how serious they were when it comes to getting their message across.
Students said Soto has been at the school for five years and is known for looking for solutions instead of consequences.
"At the end of the day, this school is for the students and what the students want is the most important thing," said senior Lizbeth Contreras. "What we need right now is stability and that's what Mr. Soto can offer us."
San Diego Unified School District spokesman Andrew Sharp said Soto is not being considered for the principal position.
"It's not a reflection of him so much.  We want to make sure we have the absolute right person for this position," Sharp said.
The district will start a new round of interviews next week, according to Sharp.
Update: students never left campus.. SDUSD says VP Soto is not being considered for principal https://t.co/W2uBrzHf05

— Aric Richards (@AricFOX5) May 18, 2017