This is an archived article and the information in the article may be outdated. Please look at the time stamp on the story to see when it was last updated.
SAN DIEGO — Jenny Serban had always wanted to sing the National Anthem at a Padres game. Monday night, her dream came true.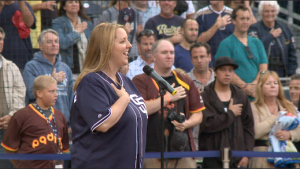 It started to shape up months ago during her freshman English class at Steele Canyon High School. She had asked her students about their bucket list. When they inquired about hers, Serban told them about her dream to sing the anthem before a Padres game.
Unbeknownst to her, her students contacted the Padres and got the ball rolling. They were told they would have to sell 300 tickets to the game to let their teacher sing the Star Spangled Banner. And they did.
"They said, 'we would like to make your dream come true' and I said, what dream, it's because I'd forgotten about it, but they said 'we want to make sure you get to sing National Anthem, would you be up for it?,' " said Serban.
Before Monday's Padres game against the Pirates, Serban got her shot and knocked it out of the park.