This is an archived article and the information in the article may be outdated. Please look at the time stamp on the story to see when it was last updated.
CARLSBAD, Calif – The Poinsettia Fire, which raged through the hills of Carlsbad last week made national headlines, but one of the first news teams on the scene was a crew from the Carlsbad High School television program.
The terrifying firestorm blackened about 600 acres, prompted thousands of evacuations and destroyed and damaged dozens of homes. And student reporter Savannah Huemoeller quickly found herself in the thick of it.
"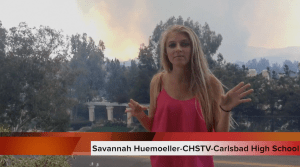 We drove up and we could see the flames and it was crazy," Huemoeller said.  "I remember seeing the smoke, and it was all very scary. Right then and there I knew maybe I should do a stand-up for my teacher."
Huemoeller ended up doing much more than her initial appearance in front of the camera. She went on to cover all aspects of the fire.
"I talked to people who were evacuated, I even talked to a fire captain," said Huemoeller.  "I knew this was a big event and so I realized I should stick around and cover with this."
Out of the ashes came a story on her friend Adam Gilmore, whose home was burnt to the ground.
"I felt so bad for him and it's such a terrible time for him and his family," said Huemoeller.  "I simply asked Adam if I could do a story on him so I could share what happened to him."
The story has now become a headline of its own.  It's earned thousands of clicks on the school's websit, and it was also picked up by Fox 5 and several other local media outlets.
"I'm just so shocked it was able to get so far," said Huemoeller.
This is Savannah's fifth year with the CHS-TV news team.  Normally, you would find her behind the sports desk, but now after the fires she just might change her focus.
"I want to be a reporter, I'm hoping to be a reporter," said Savannah.  "Maybe breaking news is where I stand."
Fox News also picked up on Huemoeller's story.