This is an archived article and the information in the article may be outdated. Please look at the time stamp on the story to see when it was last updated.
EL CAJON, Calif. – A 42-year-old college student has decided to live in his car as a way to save money while attending school.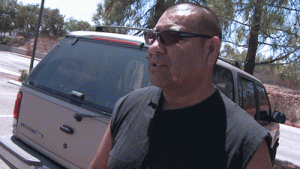 Grossmont College student Fernando Rico was recently laid off from an administrative assistant job at Wells Fargo.  So, with money running out, he gave up an apartment, living with friends and family, even his cell phone so that most of his expenses, and his focus, can go toward paying for an education.
"You know if you have a goal, you're willing to sacrifice many things," said Rico while in his sports utility vehicle. "I have my clothes here, my towels, basically everything I need."
Rico fit a twin mattress and bags of clothes in there. Some of his other belongings are in a storage facility. He also has a laptop, and when he needs internet access, he goes on campus or local coffee shops for WiFi.
"This way I'm focused," said Rico. "As long as I can sleep or eat. Trust me, I'm a better student now than I was before, simply because of this."
Rico said he didn't get good grades when he was in college before because of watching too much television. Even work was a distraction. He knew if it continued, the goal of eventually graduating wouldn't become reality.
"I want to get an MBA," he said. "So after I'm done here, I'm going to transfer to San Diego State and get my masters."
Rico's monthly expenses are about $300, which is funded mainly by student loans. His expenses include gas, food, books, and a gym membership at a local 24-Hour Fitness. He said the membership is convenient so he can work out, use the bathroom, and take a shower.
"In the mornings, before I come to school, I work out and I take a shower, then I go to school. Next day, I do it again," he said.
It appears to be working out, as his grade point average is a 3.5.
Rico doesn't recommend this for everybody, as there's always a challenge of finding a place to safely park for night.
As for relationships, he knows that's out of the question for now because of his situation, but he's looking ahead.
"It's not easy," he said. "But if you focus, it can be done."